You always wanted to wake up in a luxurious suite in a historic palace located in Palma's beautiful old town? Then you will adore this new addition to the capital's glamour scene. The five-star grand luxe boutique hotel Palacio Can Marques wows its guests with a fantastic location, a magnificent building, elegant high-class suites and a top service. Find out more about this stunning hotel!
About Palacio Can Marques
In the heart of Palma's charming old town, in the La Lonja district not far from Palma's popular sights, you will find a stunning historic palace dating back to the 18th century. It houses the luxurious five-star grand luxe boutique hotel Palacio Can Marques. The beautiful building formerly was the Marques family's residence for many decades. Now it is a beautiful luxury hotel that stands out thanks to its wonderful location, high-class suites and an extraordinary service. The owners have put much effort and passion into the careful renovation of this exceptional property that they are delighted to now share with their guests.
Luxurious and uniquely designed Suites
Palacio Can Marques consists entirely of luxurious suites. There are 13 in total that are all individually designed with particular shapes, furniture and décor. They have unique names such as Escape, Romance, Eden, Oasis or Majestic and range from 33 to 380 m² in size. What they all have in common is their warmth and intimacy being reminiscent of the private residence the hotel once was. Some suites have a large private terrace with stunning views of Palma and the nearby harbour. If you travel together in a small group you can also combine three suites with an elegant communal living room for more privacy.
For ultimate luxury book the presidential Riad Suite that features three bedrooms with ensuite bathrooms on 380 m². This stunning suite for up to six guests offers besides elegant bedrooms and bathrooms a living and dining area, a fully equipped kitchen as well as a 40 m² private terrace with breathtaking views of Palma. While one of the bedrooms features an antique Moroccan fireplace, another one is located in the palace's tower and offers 360 degree views of Palma and the bay.
Aline Matsika, an internationally recognised interior designer with offices in Paris, New York and Hamburg, has created the unique suites at Palacio Can Marques. The design elements date back to different design epochs. Guests will find a great selection of furniture, art and sculptures. Furthermore, each suite features individually designed chandeliers from Murano in Italy as well as beautiful handwoven carpets.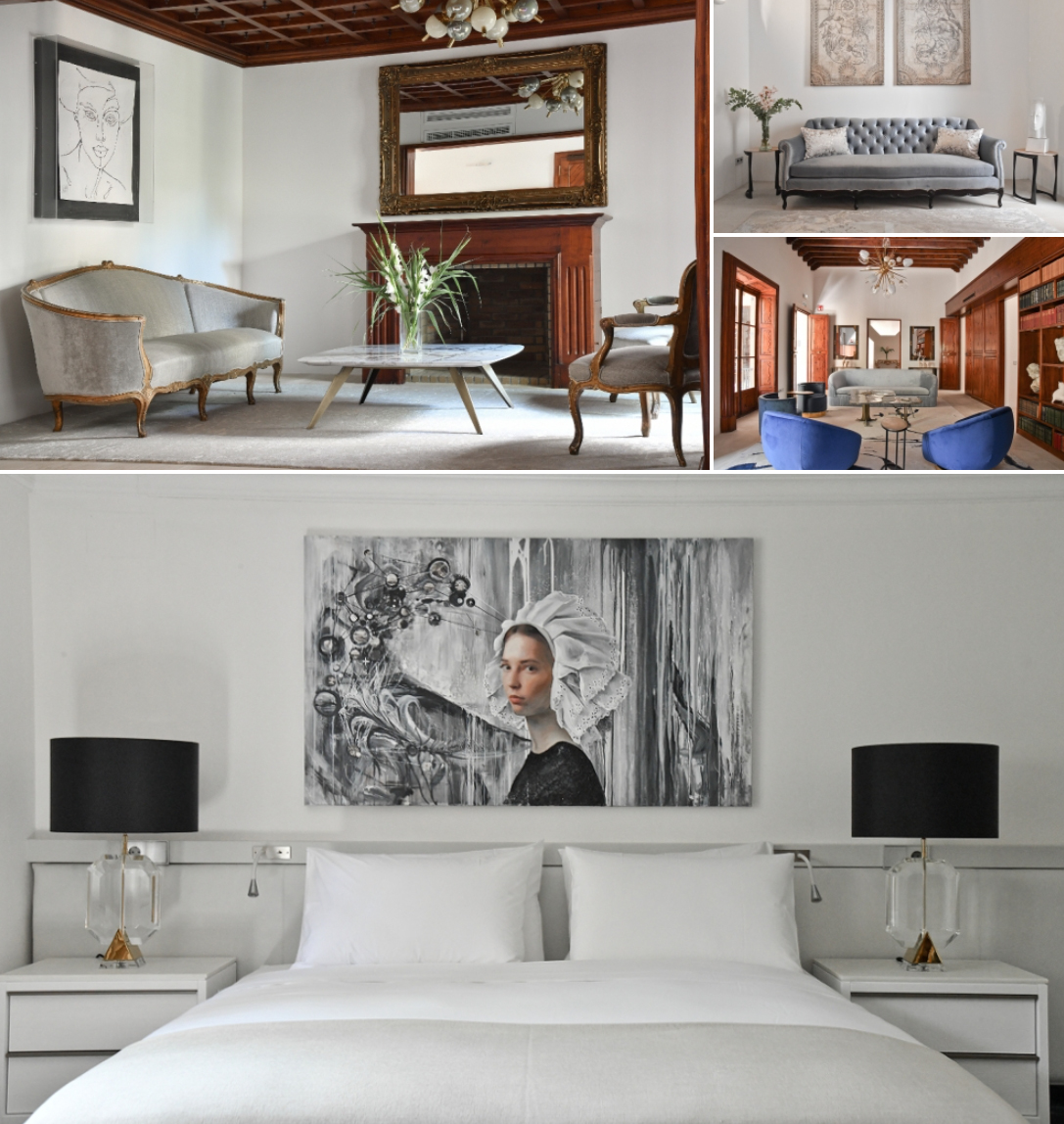 More exceptional Features
The stunning Palacio Can Marques not only offers luxurious suites but also other extraordinary features.  It houses an excellent restaurant, a beautiful garden, a wellness area and lifestyle boutique.
Restaurant
The Restaurant Can Marques is located inside the hotel. It offers excellent Mediterranean cuisine as well as a large selection of exquisite wines in a historic yet stylish atmosphere. The hotel also offers an excellent breakfast buffet that is served in the restaurant or in the garden. The restaurant is open from 17h to 23h every day.
Garden
If you're looking for disconnection during an exciting day in the city relax at the hotel's 200 m² large garden. It offers a peaceful retreat as well as a haven of tranquility in the heart of Palma's old town. Read a book, have snacks and drinks or meet up with friends in the shade of large palm trees.
Gym and Wellness
Besides a beautiful garden and restaurant Palacio Can Marques also features a private gym with a wellness area. Directly accessible from the garden the gym offers a great selection of work out equipment. Whereas at the wellness area you can enjoy individual massages and beauty treatments.
Lifestyle Boutique
Another great feature of the hotel is the lifestyle boutique that interior designer Aline Matsika runs. She doesn't only sell certain items exhibited in the hotel. The interior designer is also available for individual design advice for hotel guests.
Super Yacht Excursion
In addition, Palacio Can Marques offers private excursions on a 108 foot sailing super yacht to round off the luxurious experience. Hotel guests have the possibility to explore the stunning coastline of Mallorca on the super yacht 'WinWin'. The stunning yacht was the winner of the World Superyacht Award 2015. Yacht lovers will furthermore love the location of Palacio Can Marques since the hotel is in walking distance to the harbour. There you can find the Real Club Nautico de Palma and the Palma Boatyard.